Book Cover Types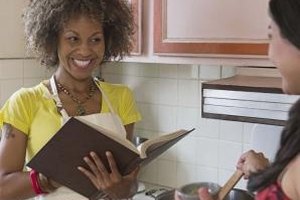 In early history, books were considered a precious commodity, as many were copied by hand, which took a great deal of time, or printed from carved blocks of wood, which had a limited lifespan. The first person to create a way to mass produce books was Johannes Gutenberg, a German who created a printing press with moveable type in 1440. Books are now mass produced in many forms and include a variety of cover types.
Hard Cover
Hard cover books are built to last through many reads over many years. The cover consists of boards that are covered with another material, such as cloth, leather or paper. The name of the book and author are commonly found on the binding and on the front of the book. Many of these books are also covered with a paper dust jacket that helps protect the cover of the book. This type of cover is more expensive than other types because of the increased cost of materials and manufacturing.
Mass Market Paperback
A mass market paperback cover is commonly used in books that are meant to be a quick purchase. These books are often found in stores that are not strictly selling books and are priced lower than hard cover books. Some mass market paperbacks are simply reprints of hard cover books. The typical size of a mass market paperback is 4.25-by-7 in. This type of cover, however, is not very durable, and the book will wear out more quickly than its hard cover version. Fiction books are most likely found in this format.
Trade Paperback
Trade paperbacks are similar to mass market paperbacks, as they are less expensive than hard covers and are not as durable. These books, however, are a bit larger at 6-by-8 in. and are almost always reprints of hard cover books. Trade paperbacks are also sold exclusively to book stores and other book marketers. Poetry and nonfiction works are most commonly printed with this type of cover, and some fiction books also use this format.
Chapbooks
The chapbook covers date back to early Europe when peasants could not afford books. These books contained mostly poetry, folk tales and music for the poor to enjoy. Chapbooks of today are typically self-published works that are created from 8.5-by-11-in. paper that is printed and folded in half. A cover for a chapbook is commonly made from cardstock that is printed with the book information. The papers and cover are stapled together at the fold.
Library Binding
The books you find in the library may make use of library binding for covers. These covers are specifically designed to hold up to a lot of wear-and-tear because library books get more use than the average book. Library binding is not done by the book printers; many libraries acquire books in their original form and get them rebound to make them last longer. Heavy cloth is typically used for the cover, and the name of the book and author are printed on the new cover.
Photo Credits
Jupiterimages/Brand X Pictures/Getty Images