Comic Book Storage Ideas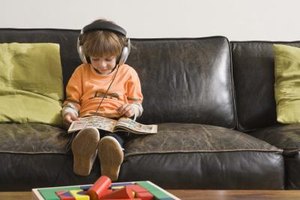 Comic books are as much a joy to read as they are to collect. Just as with television shows and movies, many who enjoy the stories in comic books would like to enjoy them again at a later time. Along with readability comes the collectability factor. Whether the comic is simply a great story or an extremely valuable collector's item, storing them safely is a must.
Standard Storage Bags
The first line of comic book defense is the standard comic storage bag. These bags may look like oversized ordinary sandwich bags; however, they are made from special plastic that is usually acid free. Acid-free bags keep the comic safe from the outside elements and from the acids similar plastic bags exude over time that can degrade and discolor the comic book itself. Comic bags are clear so the contents can be easily seen. The standard bags should be replaced every two years.
Mylar Storage Bags
For those seeking longer term protection of their collection, Mylar bags are the way to go. Mylar, a trade name for Dupont's polyethylene terephthalate film, is a stable, acid-free, crystal-clear material used to make archival comic bags. The Mylar bags are normally thicker than standard storage bags (4 mil vs. 2 mil) and are more durable. If you plan to archive a comic for life, put it in Mylar.
Backing Boards
Backing boards are made from a special, acid-free cardboard. The boards are designed to slide behind the comic book inside the storage bag for added stiffness in order to prevent the comic from being bent accidently.
Standard Comic Boxes
Comic boxes come in short and long sizes, as an industry standard. The short boxes allow for storage of approximately 200 comics, depending on the whether the individual comics have backing boards and the thickness of the storage bags. Long boxes can store approximately 300 comics, again depending on bag and board variables. Boxes can be stacked for easy storage in a closet, under tables, etc.
DrawerBox
DrawerBoxes have an inner drawer that slides out of the box's shell just like a file drawer, allowing stiffer support for stacking, while giving the owner easy access to the contents that doesn't happen with standard long or short boxes. DrawerBoxes can be stacked much higher than the less stable standard boxes and are designed to fit snugly into most standard size closets for an instant comic storage system.
Certified Guaranty Company
For the most hardcore storage a comic collector can find, there's the Certified Guaranty Company, or CGC, as they're publicly known. Collectors can submit their books to CGC, who will give them a certified grade, used for valuation, and then seal them in a special CGC acid-free plastic display container. CGC grading comes with a hefty price, beginning at $23/book and climbing as high as $3,000.
References
Photo Credits
Jupiterimages/Polka Dot/Getty Images