The Best Comic Illustrators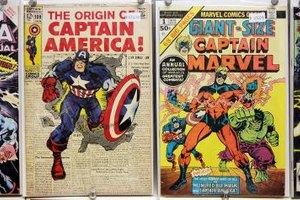 As a visual medium, comic books have been the inspiration for movies, television series, books and radio programs. It is a collaborative medium; a marriage of narrative and sequential storytelling driven by the artist's use of dynamic angles, captivating coloring and inventive framing devices within the comic panels. Generations of readers have been entertained by the medium's best and most daring illustrators.
Will Eisner
Often credited with inventing the graphic novel, Eisner wasn't the first to do it, but he is probably the medium's most influential artist. Born on March 6, 1917 in New York, Eisner is best known for creating "The Spirit," "John Law," "Lady Luck," "Mr. Mystic," "Uncle Sam," "Blackhawk" and "Sheena." Early in his career, he formed the Eisner-Iger Studio with his friend, Jerry Iger. This company employed legendary artists Bob Kane (creator of "Batman"), Jack Kirby, Lou Fine and Mort Meskin. His "Contract with God," published in 1978, ushered in a new age of graphic novels. He wrote several authoritative texts on sequential storytelling: "Comics and Sequential Art," "Graphic Storytelling" and "Expressive Anatomy." The comic book industry's most prestigious award is named for Eisner (established in 1988). He received an Eisner Award in 1995 for Best Archival Collection for "The Christmas Spirit." Eisner died in 2005.
Jack Kirby
Kirby was born Aug. 28, 1917 as Jacob Kurtzberg, in New York City. He started his career in animation with the Max Fleischer Studios (known for the early "Popeye" cartoons and "Superman"). He later worked for Eisner-Iger Studio and eventually landed a job at Timely Comics Company (later renamed Marvel Comics). There he helped to create the character Captain America with writer Joe Simon. Kirby's most famous work is with Marvel Comics icon, Stan Lee. Together they co-created the "X-Men," "Thor," "The Incredible Hulk," "The Silver Surfer" and "The Fantastic Four." His "New Gods" universe still provides fertile ground for many comic book writers and artists. He was inducted in the Will Eisner Hall of Fame in 1987 and died in 1994.
Harvey Kurtzman
Born 1924 in Brooklyn, New York, Kurtzman influenced a generation of comic book artists, and was the founding editor of the humor magazine, Mad. Five years later (in 1957), he launched the magazine Trump for Hugh Hefner. With collaborator Will Elder, he created the "Little Annie Fanny" comic for Playboy magazine. Notable artists that were discovered by Kurtzman include Terry Gilliam (director of "Brazil"), Gloria Steinem, Gilbert Shelton and R. Crumb. Named for Kurtzman, the annual Harvey Awards are voted on and selected by comic book professionals. He died in 1993.
Frank Miller
Miller has guided numerous creative projects outside of comics, which include the film adaptation of Will Eisner's "The Spirit"; co-directing the movie "Sin City"; and the two "Robocop" sequels. But it is as an artist and writer that Miller made his fame. Perhaps his most influential work is the seminal "Dark Knight Returns" (1986), which signaled the beginning of morally ambiguous superheroes. His most revered work to date is the "Sin City" series of graphic novels. Miller was one of the first film directors brought to Hollywood on the strength of his illustrating and storytelling mastery. He has received multiple Eisner Awards for "Sin City" (best penciller/inker; best writer/artist), "Elektra Lives Again" and "300." Miller is the recipient of two Harvey Awards.
Photo Credits
Mario Tama/Getty Images News/Getty Images