How to Copy Audio Books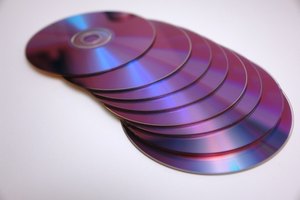 Audiobooks are perfect for an active person. However, taking a CD player on a long jog isn't convenient, and if you're a businessperson who travels, it's easy to leave those expensive discs sitting in the passenger's seat, only to suffer sun damage. Making a copy of your audiobook in iTunes is an excellent way to not only back up your valuable audiobooks, but listen to them on other devices.
Locate the original CDs of the audiobook you want to copy and place the first disc into your computer's CD/DVD-ROM drive.
Open iTunes. Make sure you are using at least iTunes 9. To find out which version of iTunes you are using, select "Help" from the toolbar and then select "About iTunes." If you are using a version lower than iTunes 9, select "Help" from the toolbar and then select "Check for Updates."
Under "Devices" on the left-hand side of your screen you should see the name of the disc you just inserted. Click on the name of the disc. The tracks from the disc should appear on the right-hand side of the screen. In the lower right-hand corner of the screen should be two buttons: "Import Settings" and "Import CD." Click "Import Settings."
In the drop-down list next to "Import Using:" select "MP3 Encoder." In the drop-down menu next to "Setting" select your preference of audio quality. Click "OK."
Click "Import CD." It typically takes 30 minutes to copy an audiobook CD in iTunes.
After your disc import is done, select "Music" from the menu on the left-hand side of the screen. Make sure your files are sorted by album. Find the CD you just imported and right click on it. Click "Get Info." Review the fields that are available and make sure that all of the information you want to appear in the MP3 file is filled in.
When you are done importing your CDs, the files will be available in the iTunes library. If you cannot load audio files to your device through iTunes, the MP3 files will be available in your iTunes media folder location for you to cut and paste in another location. You can find your iTunes media folder by clicking selecting "Edit" in the iTunes toolbar and then selecting "Preferences". Select the "Advanced" tab. Your iTunes media folder location will appear at the top of the dialogue box.
Tip
Make sure the discs are clean before you start the copying process. If iTunes freezes up while copying a disc, take the disc out, delete the files that were copied, wipe the CD down with a silk cloth, and try the process again. If you still have trouble copying the disc, try copying the disc using iTunes on another computer.
Items you will need
Computer
Original audiobook CDs
iTunes 9
References