How to Create a Bibliography in MLA Format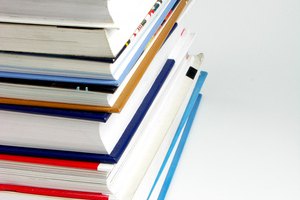 According to the Modern Language Association, the MLA bibliography style is widely used in academic settings, particularly for writing and the humanities. Citations are noted in parentheses within the text and relate to an alphabetical listing of sources at the end of the paper. The simple and concise style contributes to its popularity. Follow these basic rules to prepare a bibliography in the MLA format.
Gather all the sources used for a paper or project. The information needed includes author's first and last name, title, place of publication, publishing company and date of publication. Page numbers, URL and website information is needed for articles or Internet sources.
Type "Works Cited" at the top of the page and center it.
Alphabetize sources by the author's last name. Alphabetize by title if the author is unknown, ignoring "A," "An" or "The" at the beginning of a title.
Start each citation flush left and then indent each subsequent line by 1/2 inch. Separate each piece information reported in a citation with a period followed by one space, but use a colon between the city of publication and the publishing company's name for a book. Single-space each entry. Double-space between each citation.
Format an entry for a book:
Author's last name, first name. Book title. Additional information. City of publication: Publishing company, Publication date.
Format an entry for a magazine article:
Author's last name, first name. "Article title." Periodical title Volume # Date: Pages.
Format an entry for a webpage:
Author's last name, first name. "Title of work." Title of site. Editor. Date of publication. Name of organization. Date of access. Full website URL.
Exclude any information that is not available.
Tips
Italicize the names of publications.

Capitalize the first word, last word and important words (excluding articles, prepositions and coordinating conjunctions) in a title of an MLA citation.

Consistently use day-month-year style (8 Feb. 2010) or month-day-year style (Feb. 8, 2010) style when typing a full date. Abbreviate the month except for May, June and July.