Different Referencing Styles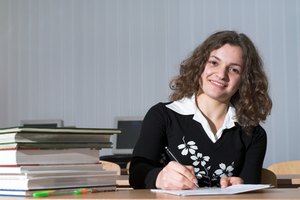 Finding the correct style guide for formatting references depends on the target institution or publication. Writers can choose from APA (American Psychological Association) style, Chicago Manual of Style rules and MLA (Modern Language Association) style. Specific subject areas may demand their own specialized style, such as CSE (Council of Science Editors) style for natural sciences and AMA (American Medical Association) for medical publications. Style guides may be subscriber only, but a college library may have manuals available.
American Psychological Association (APA)
The APA style guide is appropriate for psychology, business, anthropology, education, economics and other social science texts. Reference lists should be alphabetized and multiple works by the same author listed in order of publication. All major words of journal resources should be capitalized, but only the first letter of non-journal resources. Lines after the first line of the reference should be indented.
Modern Language Association (MLA)
The MLA style is used in literature and media research papers. The guide lists references in alphabetical order by author surname or by title of book. All major words in the resource should be capitalized. All lines except the first line of a reference should be indented. In-text citations use a system where the author and the relevant page numbers are included -- for example, (Spongebob 100-115).
Chicago Manual of Style
The Chicago Manual of Style has two different style systems. These are Author-Date and Notes and Bibliography. The most common style used in humanities publications is the Notes and Bibliography system and the Author-Date style is primarily used by the physical science communities. The major difference between the styles is that the Author-Date uses in-text citations using author's last name and date of publication, as opposed to entering more complete information in the text of the paper.
Council of Science Editors (CSE)
CSE style, formerly known as CBE style, has two separate ways of referencing material. These are the "Name-Year" system and the "Citation Sequence" system. The Name-Year system uses the format (Spongebob 1998) and the Citation Sequence uses superscripts for in-text citation. For reference lists, the Name-Year system alphabetizes the resources according to author surname; the Citation Sequence system lists resources in the order they were used in the paper.
American Medical Association (AMA)
The AMA style guide is used for medicine-related study publications. The guide covers Internet resources, books and journal articles. When following this guide, all references should be located at the end of the paper, and in the order they appeared. When referring a second time to a source, the reference number and page number of the information should be included. AMA requires that non-article resources have words with more than three letters capitalized. For article resources, only the first letter of a sentence should be capitalized.