The Best Online Writing Classes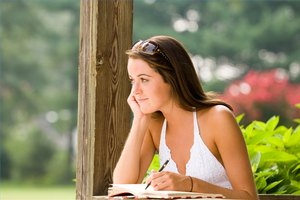 Whether it's poetry or grant proposals, almost anyone's writing can benefit from extra practice and instruction. The keys to a productive writing class are constructive feedback from teachers and peers along with a healthy prodding to make you write more. The online format can potentially provide that help as well as in-person classes. Here are some of the most respected and helpful sources for online writing classes, and some of them are even free.
Gotham Writers' Workshop
The online arm of a popular series of writing workshops in New York City, the Gotham Writers' Workshop has online courses in virtually every form of creative writing as well as business writing. Courses can be completed at your leisure and include fiction, memoir, sci-fi and travel writing. New lectures are posted online weekly along with assignments and a message board for interaction with classmates and the instructor. The classes are generally six or ten weeks long, and the faculty includes writers with published works and advanced degrees.
The New School
A university based out of New York's Greenwich Village known for its history of innovative education, The New School offers single online classes in creative writing and essay writing as well as an undergraduate certificate in screenwriting. Courses range from basic academic prose to specific topics such as beginning a novel or selling a screenplay. Most programs last fifteen weeks and offer three college credits.
UC Berkeley Extension
The University of California at Berkeley's online classes can lead to a postbaccalaureate certificate in writing or to a certificate in technical writing or editing. You can also take one course at a time. The university recommends this program for people changing careers or seeking to further a career in a technical industry, but there are no specific prerequisites to start taking classes.
Massachusetts Institute of Technology
MIT offers free course materials online through their Open Courseware program. You can't receive credit or interact with MIT professors, but you can get the syllabus and lesson plans from past semesters as taught at the college. Their Writing and Humanistic Studies department makes available courses on essay writing, poetry and prose, as well as a selection of more topical classes.
The Purdue OWL
Purdue University's Online Writing Lab is a free service that offers lecture transcripts and course materials related to all sorts of writing. Professional and technical writing are included with an array of sample documents for tasks like scientific abstracts and business memoranda. Other offerings include creative writing, literary criticism and report writing for nursing and psychology. This program provides a good bit of knowledge for a wide range of writing purposes rather than advanced coursework in any one field.