Positive Effects That Harry Potter Has on Children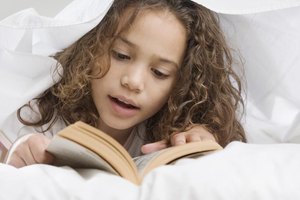 The Harry Potter series, with its first book by J.K. Rowling released in 1997, abounds with examples for children of how to develop discipline and self-control and confront fear. The series emphasizes the importance of character strength and the ability to use compassion when making important decisions. According to a poll by the Kids and Family Reading Report, 76 percent of parents say Harry Potter helped their kids do better in school.
Reading for Fun
With over 450 million copies sold, Harry Potter qualifies as the best-selling book series in history: Children who didn't read for fun before picked up the first book and couldn't put it down. According to a poll by the Kids and Family Reading Report, a remarkable 89 percent of parents queried said that the Harry Potter series increased their children's love of reading; 61 percent of boys and 41 percent of girls stated that before reading the books, they never considered reading a book for fun.
Provides Common Ground
The Harry Potter series appeals to both parents and children. Because of this, parents discovered an interest along with their children, resulting in better communication. The Kids and Family Reading Report by Dr. Hal Quinley from Yankelovich notes that the series "helps parents and kids stay connected and enjoy reading together." Half of parents surveyed reported that they also read the Harry Potter books. According to Scholastic, Harry Potter has the ability to cross generational boundaries.
The Developing Child
John M. Yeager, director of the Center for Character Excellence at The Culver Academies in Culver, Indiana, has said that the Harry Potter books aid in a child's personal development. Students must learn to cultivate self-control by integrating physical, emotional and mental aspects of behavior, Yeager said; Harry Potter continually undergoes challenges and must dig deep inside himself to find the strength to meet them. One message of the books is that by making wise choices, children have more control over their lives.
The Power of Positive Emotions
While the series focuses on magical powers, in the end, Harry Potter requires more than magic to achieve his goals. Dumbledore, arguably Harry's mentor, continually claims that Harry's love for his parents protects him. According to Psychology Today, self-awareness, mood management, self-motivation, empathy and the ability to manage relationships improve a child's well-being. The loyalty that Harry shows to his friends demonstrates the value of caring and the ability to confront challenges head on, no matter the consequences.
Photo Credits
JGI/Blend Images/Getty Images