How to Sell a Film Script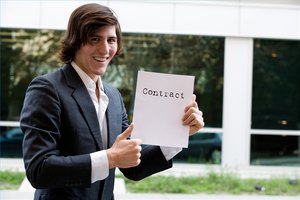 So you have written a script and you think it could be the next blockbuster smash. There's only one catch: someone needs to buy your script. Selling a script can be a lucrative and sometimes quite difficult considering the competition in the industry. However, a few basic steps will make your goal to sell your film script a little easier.
Write a killer script. Sit down and figure out what story you hold inside of you that only you could tell and write a script that nobody could refuse.
Read Variety magazine and look for stories about screenwriters or recent scripts sold to see who is in the market for buying a script and who isn't. Find an agent on an online listing of agents or through a publication such as Variety.
Make a list of 5 agents to send your script to. Send your script to an agent, or drive it to their home and drop it on their doorstep if necessary. Be persistent and don't take one refusal as an indication of your talent.
Make sure your agent isn't pulling the wool over your eyes. Be persistent in contacting your agent. Ask your agent daily where you are on your script, who's reading it or thinking of optioning it.
Discuss a reasonable amount that your script would go for and ensure that you are adequately compensated for your script. Read the contract very carefully and make sure you will be billed on the screen and will receive some of the box office royalties.
Tips
Be persistent and do not stop until you find someone to represent your film script. Tenacity is a must in the game to sell a script.

It could take a few months to sell your script or even get bidders on your script. In the meantime, keep writing and creating the next project to be sold. You should have several pots on the stove while waiting for one to boil.

Be aware that agents and film executives will often kiss your butt; however, don't lose sight of the prize and know your value and worth. The best screenwriters and most successful ones are hardball players.

Joe Eszterhas says to always lie about how long it took you to complete your film script, say it has taken you your whole life even if you wrote it in a few weeks. This statement will make it sound like you spent a lot of time and effort when perhaps you wrote it in a week.
Warnings
Don't take creative advice from your agent and don't let them change your film script aside from minor details.

Don't go to an agent that charges a reading fee, or who has no connections. Check the Writers Guild for a list of writers, then contact them and ask who does good business and who is not reputable.