How to Write an Ending Paragraph in an Essay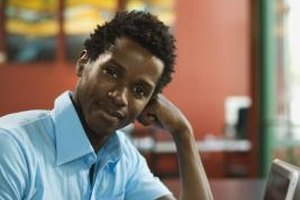 The ending paragraph of an essay is like a lawyer's closing argument. The last section of the paper restates the central idea, showing the reader why it matters. It also helps the reader gain a different viewpoint of the subject by synthesizing all the points that were made throughout the essay.
Synthesize
One of the functions of the concluding paragraph of an essay is to synthesize rather than summarize the paper's main points. The conclusion should not be introducing new information, arguments or facts, but should cohesively reflect on and unify the material for the reader. Instead of repeating already stated points, you should pull the information together to show how all the elements are connected to one another and specifically how they support the essay's thesis.
Restate Thesis
The point you made at the start is the same point you make in the end of the essay. Though the concluding paragraph's main idea should be more developed and take into consideration all the points made throughout the essay, it does not stray from the thesis statement. Referring to aspects of the introduction in the ending paragraph ties the overall essay together. Matching your concluding point with the introduction's point serves as a compass to make certain you have stayed on course in your essay.
Point to Broader Implications
The ending paragraph of an essay can address how the points made relate to the real world, to contemporary events or to global communities and concerns. It can also make a call for action or tie the more specific issue in the paper to a broader issue or event. For example, an essay that evaluates Rosa Parks' activism and arrest can use the ending paragraph to reflect on the impact of her decision on the Civil Rights Movement overall and on contemporary politics and society.
Answer the "So What" Question
A good essay conclusion can pass the "so what" test. After reading each sentence of the concluding paragraph, the questions, "So what?" and "Why should anybody care?" can help you strengthen and develop your essay's ending. Answering the question, "Why does this matter?" helps make sure the conclusion properly explains the significance of the essay's basic assertion and shows readers why the essay is important, meaningful and useful.
Photo Credits
Jupiterimages/Brand X Pictures/Getty Images