Famous Black Poets & Authors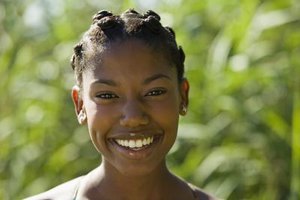 African-American literature is a rich genre that explores not only black culture and racial issues, but also subjects of general concern, including childhood experiences, aging and life's purpose. The number of great black writers is too large to fit in one short article, but here are some women and men who made history telling stories, both true and invented.
Nikki Giovanni
Born Yolande Cornelia Giovanni, Jr., in 1943, Nikki Giovanni has written around thirty adult and children's books, but is best known for her poems that deal with her childhood, womanhood and blackness. She launched her writing career with "Black Feeling Black Talk," her first poetry book, published in 1968. In 1973, she received a National Book Award Nomination for her autobiography "Gemini." More recently in 2009, her book "Hip-Hop Speaks to Children" was number 15 on the New York Times Bestseller List.
Nikki Giovanni is a University Distinguished professor at Virginia Tech in Blacksburg, Virginia.
Maya Angelou
Maya Angelou, born in 1928, writes in many genres, including poetry, drama, memoir and fiction. Initially, she studied modern dance with Martha Graham and subsequently danced with Alvin Ailey on television. In 1958, she joined the Harlem Writers Guild and has since written more than thirty best-selling books, including the internationally acclaimed "I Know Why the Caged Bird Sings," published in 1970. Angelou also wrote the first movie script by an African American woman to be ever filmed, "Georgia, Georgia," which was nominated for a Pulitzer Prize.
Ishmael Reed
This controversial African-American writer was born in Chattanooga, Tennessee, in 1938 and raised in Buffalo, New York, where he was a correspondent for the "Empire Star Weekly," a black newspaper. While in Buffalo, he also co-hosted a radio show that was canceled when Reed interviewed Malcolm X. In 1967, he published his first novel, "The Freelance Pallbearers." Since then, he has authored many more works, including at least nine novels, five poetry books, four essay collections and a number of librettos, plays and television productions. He's taught at the University of California at Berkeley, Harvard, Yale, Dartmouth and several other prestigious universities as a visiting professor.
Reed has also been nominated for a Pulitzer Prize and been a two-time finalist for the National Book Award. But perhaps, his most significant contribution came in 1976 when he cofounded the Before Columbus Foundation to promote others' multicultural projects, with a particular preference for writing endeavours.
Arna Bontemps
Arna Bontemps's first novel, "Chariot in the Cloud," never found a publisher, but two years later in 1931, Harcourt published his "God Sends Sunday," a novel about a black jockey. Shortly afterwards, while teaching at Oakwood Junior College, he began collaborating with another black writer, Langston Hughes. Together they edited "The Poetry of the Negro." Bontemps and Hughes also co-authored several works, including the juvenile travel book titled "Popo and Fifina: Children of Haiti." The success it reached encouraged Arna Bontemps to continue to include juvenile fiction in his work, which was often a fusion of history and his imagination.
In the late 1930s, Arna Bontemps received a Julian Rosenwald grant to write the 1937 novel "Sad-Faced Boy," about three Alabama boys who realize the charm of their southern home after they travel to Harlem.
Before his death in 1973, Bontemps taught at Fisk University. He also received two honorary degrees and distinguished professorial appointments at the University of Illinois and Yale University. After retiring from Fisk, he returned as a writer in residence.
Langston Hughes
Born in 1902 in Joplin, Mississippi, James Langston Hughes began to write poetry at age 13 after moving to Illinois. Alfred A. Knopf published his first poetry collection, "The Weary Blues," in 1926. Four years later, his first novel, "Not Without Laughter," won the Harmon gold medal for literature.
Hughes's work depicts the black experience in America between the 1920s and the 1960s. His "Simple" book series ("Simple Speaks His Mind," "Simple Stakes a Claim," "Simple Takes a Wife," "Simple's Uncle Sam") became a musical, "Simple Heavenly," of some success in 1957. Later in his career, as some accused him of creating caricatures of black life, a gospel musical he wrote, "Tambourines to Glory," got a cold reception. However, he remains a popular black writer, viewed as someone who, through his work, helped others recognize the worth of the African American culture.
After his death of prostate cancer in 1967, the New York City Preservation Commission gave his home in Harlem landmark status. East 127th Street where he lived was also renamed Langston Hughes Place.
Photo Credits
Polka Dot Images/Polka Dot/Getty Images