Thomas Wolfe's Short Stories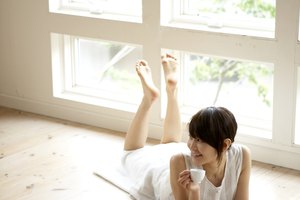 Thomas Clayton Wolfe was an acclaimed American writer who was born in 1900 in Asheville, North Carolina. He achieved great fame as a master of autobiographical fiction in his short lifetime. Although best known for his novel "Look Homeward, Angel" (1929), Wolfe also wrote plays and short stories, many of them published after his death in 1938.
Genius
Critics called Wolfe a genius for his ability to bring to life stories of the South based on his North Carolina youth and his Southern family's lore. Yet critic Gaither Stewart of "The Southern Cross Review" noted, "Wolfe's voice was less Southern than it was 19th century English romantic. Of all the Southern writers Thomas Wolfe was not trying to come to terms with the South... His goal was to describe all of American society." Literary editor Maxwell Perkins wrote of Wolfe, "I believed he opened it [America] up as no other writer ever did for the people of his time and for the writers and artists and poets of tomorrow."
Short Fiction
In between writing his big, sprawling novels, Wolfe wrote short fiction. His first collection – "From Death to Morning" – was published in 1935. It included several of Wolfe's best, most finely wrought short stories that had already appeared in popular magazines. A good example is "The Far and the Near," which was first published in "Cosmopolitan" magazine. It is the story of a railway engineer who passes a cottage every day for 20 years, waving at the women who live in it. When he retires, he visits the cottage, with disastrous results.
Chickamauga
Wolfe's best-known short story about the U.S. Civil War – "Chickamauga" (named for the site of that famous battle) – was published in 1937. The first-person narrative tells the story of two friends who join the Confederate Army on the same day and their respective fates. Wolfe wrote two other short stories about the Civil War, but critics consider neither "The Four Lost Men" nor "His Father's Earth" to be as brilliant as "Chickamauga," which has been anthologized repeatedly.
Europe
Wolfe spent much time in Europe, and his work was especially popular in Germany. In 1936 he witnessed discrimination against the Jews there, which upset him and changed his mind about the political developments in the country. He published a short story based on his observations in "The New Republic"; it was called "I Have a Thing to Tell You." Following its publication, the German government banned Wolfe's books and prohibited him from traveling there.
Brooklyn and Beyond
For much of his life Wolfe lived in Brooklyn, New York, and has been associated with that city, especially since publication of his short story "Only the Dead Know Brooklyn" in "The New Yorker" in 1935. Wolfe died only three years later; his next short story collection, "The Hills Beyond," was published posthumously in 1941. "The Complete Short Stories of Thomas Wolfe," which collected all his short fiction into a single volume, did not appear until 1987. When critics take a contemporary look at Wolfe, it is most often his short stories that are held up as models of his fine, evocative writing.
Photo Credits
ULTRA F/Digital Vision/Getty Images