What Is the Tone of the Poem "Little Old Letter"?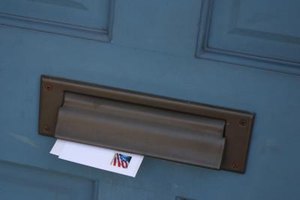 Tone is an attitude -- either that of an author or a character in a work. Word choice is what determines it. A character saying "I'm going out with my boyfriend" would convey a tone of happy anticipation; adding a single word, as "I'm going out with my loser boyfriend," alters the meaning completely. Langston Hughes' short poem "Little Old Letter" accomplishes no fewer than four shifts in tone through the author's simple word choices.
A Fearful Tone
The brilliance of Hughes' poem is that it begins simply but fearfully: the letter he receives makes him "turn right pale." His choice of rustic syntax, the "countrified" structure of his phrasing, keeps the fear in his voice at a basic, elemental level. His tone shifts to heavy sorrow: he had explored his mail box previously with no foreboding, so the letter is not anticipated; he discovered it "yesterday morning," so it is still preying upon him.
Sorrow Grows to Horror
Hughes now raises the emotional ante as he examines the letter; it is a single page "but it made me wish I was in my grave and gone." His sorrow has given way to a tone of horror, so great as to be fatalistic: Hughes would prefer death to the contents of this letter. This plunge into the abyss of depression signals another alteration in tone, one that moves to a sense of alienation.
Horror Becomes Loneliness
Hughes shifts his emotional attitude to one of loneliness; seeing that the letter is one-sided, "not a word writ on the back," he feels "so lonesome since I was born black." In a single phrase, Hughes has moved the poem to universal fear and loneliness; he encapsulates the rejective experience of all African Americans who lose a home, a job or a life's work in a single notice, not unlike the "bad check" America gave the race, as Martin Luther King Jr. noted.
Loneliness Into Loss
Finally, Hughes turns fatalistic, speculating that with "just a pencil and paper" a man's existence can be written off: "a little old letter can take a person's life." The reader is free to speculate what the letter might be -- a job rejection, an unpaid bill or an eviction notice -- but Hughes' shifts of tone show the full toll of its effect, as the speaker moves from fear to horror, from alienation to utter loss.
Photo Credits
Photos.com/Photos.com/Getty Images