How the Women in Edgar Allan Poe's Life Influenced His Poetry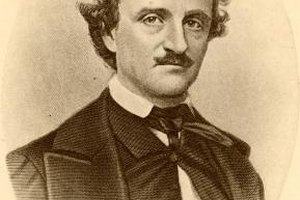 Edgar Allan Poe's poems have memorable female figures based on the women in his life. Poe had an array of meaningful relationships with women -- his mother, aunt, caretakers and others -- that he translated into his poetry often in themes of unrequited or lost love.
Female Guardians
After David Poe abandoned the family in 1810, Poe's mother, Elizabeth Arnold Hopkins, took care of the family briefly but died in 1811. Poe was then taken in by Francis Allan, whom he referred to as "Ma." Despite his relationship with Allan, Poe expressed a longing to have known his mother in a letter to Beverley Tucker in 1835: "In speaking of my mother you have touched a string to which my heart fully responds. To have known her is to be the object of great interest in my eyes." During his time in Baltimore, he moved in with his aunt, Maria Clemm. Throughout the remainder of his life, Aunt Maria, as he referred to her, was central in caring for Poe. The poem "Sonnet to My Mother" shows Poe's gratitude to Clemm and the memorialization of his mother.
Virginia Clemm
At one point, Clemm planned on having her daughter, Virginia, marry a second cousin. Upon hearing of this, Poe quickly wrote and pleaded to his aunt not to allow Virginia to marry, since he wanted to marry her. Poe did later marry Virginia in 1836, but Virginia became an invalid six years later due to consumption and died at age 25 in 1847. After Virginia's death, Poe wrote a letter expressing his desire to end his life.
The theme of the death of a beautiful woman -- paralleling Virginia's death -- recurs often in Poe's works. In "The Raven," the speaker refers to Lenore, "a rare and radiant maiden" who has been sorrowfully lost. The raven taunts the speaker by asserting him that he will behold his love "nevermore" and acts as a symbolic reminder of her absence from the world. "Annabel Lee" is dedicated to a bride who has died, with the speaker mourning her death and lying next to her grave near the sea.
Sarah Elmira Royster
Sarah Elmira Royster became engaged to Poe toward the end of his life. They had known each other in their youth, but their romance had never flourished. Poe made an unexpected visit to Royster a year after Virginia's death. Royster asked for some time to consider the proposal, but Poe died just two weeks later. Scholars claim that the early collection of poems "Tamerlane and Other Poems" was largely inspired by Royster. "Tamerlane" portrays a conqueror who has abandoned a young love for his own dreams, possibly mirroring Poe's own unfulfilled love for Royster.
Other Women
After Virginia's death, Poe courted poet and critic Sarah Helen Power Whitman. Although Poe had thoughts of marriage, Whitman viewed their relationship differently and took his dependency on her as a negative trait, and they never married. During the hard times of his relationship with Whitman, Poe sought refuge in his intellectual companion Annie Richmond. He dedicated a poem called "For Annie" to her in which he speaks of her positive influence on him as a nurturer and as a beautiful woman, "But my heart it is brighter / Than all of the many / Stars in the sky, / For it sparkles with Annie -- / It glows with the light / Of the love of my Annie -- ." Since Annie was married to Charles Richmond, Poe never made any advances.
Photo Credits
Photos.com/Photos.com/Getty Images