How to Design a Portfolio for an Architecture Student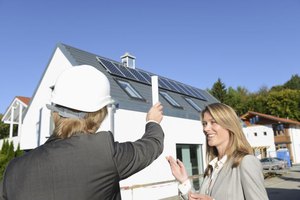 An architecture portfolio demonstrating the variety and quality of your design work boosts your chances of getting into graduate school or landing the perfect job. These portfolios should capture your philosophical approach toward art and design as well as showcase your experience as an architect.
Introducing Influences and Philosophy
Open a student architecture portfolio with brief introductory statements related to your background, architectural influences, and philosophy. Include quotes by architects and artists that inspire your work. Highlight principles that guide your approach to architectural design. This statement of your philosophy will guide your portfolio's evaluators through your work.
Summarizing Accomplishments
List your academic and professional accomplishments in a resume or curriculum vitae that will follow your introduction. Showcase your most impressive accomplishments, whether they are academic or professional. Include a list of design-related skills such as Computer Aided Drafting skills, as well as a list of professional references such as mentors, supervisors, or instructors. This summary will indicate your experience as a student or professional architect.
Highlighting Work
Present examples of the work you've completed as an architectural student. Divide this presentation up into thirds, if possible: devote one-third of the content to academic or class work, one-third to professional work and one-third to personal work. Show a range of your design interests and accomplishments. Include hand-drawn images, photographs, and designs completed using a computer. These examples of your work will craft a big-picture image of your skills and abilities as an architect.
Formatting the Portfolio
Maintain a consistent format throughout your portfolio, including font choices, page layout, and coloring. Use big headings and small descriptions of your work examples. Keep the packaging of your portfolio relatively simple. A well-formatted portfolio will complement samples of your work, emphasizing your artistic and design talents rather than distract from them.
Photo Credits
altrendo images/Stockbyte/Getty Images