How to Download an iBooks App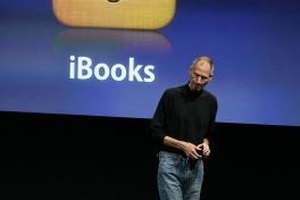 The iBooks application can be downloaded free of charge from Apple's App Store. This software is compatible with iOS devices including most versions of the iPad, iPhone and iPod Touch. Apple created the iBook app so that users could enjoy reading digital books or "e-books" on their portable devices when they're on the go. Downloading and installing the app is a simple task that can be completed in just a few minutes. Unfortunately, the first generation iPod Touch and iPhone do not support the iBook app.
Go to the home screen on your iPad, iPhone or iPod Touch.
Tap the "App Store" icon and then type "ibooks" in the search field.
Select the "iBooks" listing, tap the "Free" button, then tap "Install." The app will download and install on your iOS device. The download should take only a few minutes and then installation will occur automatically.
Go back to your home screen and tap the newly created "iBooks" app to get started reading the latest e-book releases.
Tip
The iBooks app provides access to a vast online bookstore created by Apple from which digital books can be purchased and free samples downloaded. The software can also import PDF files for viewing.
Items you will need
iPad, iPhone or iPod Touch
Photo Credits
Justin Sullivan/Getty Images News/Getty Images