How to Format a Title Page in Turabian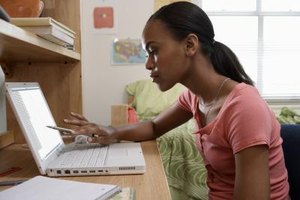 The Turabian style originated with Kate Turabian, who compiled a research paper writing guide for the University of Chicago. You can use either "The Chicago Manual of Style" or "Turabian's Manual for Writers of Research Papers, Theses, and Dissertations," though you don't need to buy these books, as overviews of the style guides are readily available on many university websites. Formatting a title page in Turabian will differ depending on if you are writing in a humanities or social science field.
Format the title page of your paper for a humanities field. On the left-hand side at the top of the page, list (in descending order, double-spaced): Your Name Your Instructor's Name Course Number ("English 101," "History 122") Date
Center the title of your paper. Indent paragraphs five spaces, and begin. (Note: on subsequent pages, your last name and the page number will appear in the top right-hand corner of the page.)
Format the title page of your paper for a social science field. All page numbers appear in the top right-hand corner of the page, including page one. At the left-hand margin on the top line of the page, type your running head--an abbreviation of the title of your paper: Running Head: ABBREVIATED TITLE (use all caps)
Locate the center of the page (both from the top and the side margins), and type your full title with upper and lowercase letters. Below this, also centered, type your name; below your name, type your university information. (Note: the body of your paper begins on Page Two.)
Tip
Make sure to note any specific directions your professor might give you for formatting your papers.
Warning
Don't get the two styles described above mixed up: the first one, for the humanities, is MLA style, and the second is APA for the social sciences.
References
"A Manual for Writers of Research Papers, Theses, and Dissertations"; Kate Turabian; 2007
Photo Credits
James Woodson/Digital Vision/Getty Images