How to Cite Other Work in an Essay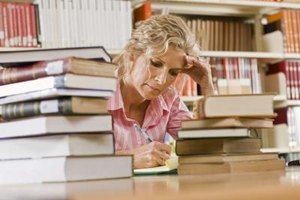 While in college, there are two major citation styles used for writing papers. The Modern Language Association style is primarily used for English and freshman composition papers, while American Psychological Association style is used for a lot of the sciences, including educational psychology, nursing and others. How you cite the sources used in your essays may differ slightly on the context of publication, and it is useful to have either style guide handy while you're writing.
Print Sources
Conduct your research and make notes of which works you wish to reference. Mark these in a manner you see fit. This could be through sticky notes, dog-earring pages or another method.
Write your paper and come to the point where need to either quote or paraphrase source material.
Look up the type of source in your MLA or APA handbook. This will depend on how the material was originally published. Online PDF documents are treated differently from book chapters or essay articles.
Write out your reference. If you are merely paraphrasing ideas or facts and not directly quoting the source, put a parenthetical citation at the end of the borrowed material. For MLA style, this includes last name and page number. For example, (Collegestudent 93). For APA style, you need the name, year and page number as identified by the letter "p." For example, (Collegestudent, 2011 p. 93).
Insert a citation containing the author's name in the context of your paper for direct quotations, and follow it with a page number for MLA. For example: As A. Collegestudent writes, "You should directly quote ideas and not facts" (93).
Split the page number and the year, if using APA, and list the author's name. For example: As A. Collegestudent (2011) writes, "Always paraphrase facts and quote metaphors and abstract ideas" (p. 93).
Tip
If you are using online sources, you will not be able to cite page numbers. In some instances, either just leave it out or count and label the paragraphs. For example, in APA: A. Collegestudent (2011) writes, "Citation styles can be tricky, when the Internet is involved" (Para. 3). Sometimes, MLA will direct you to either just cite the author's name by itself, or refer to the paragraph number. In most instances, ask your instructor for the preferred usage in the class you are writing for.
Warning
Plagiarism results if you do not correctly cite material you paraphrase from other sources. When in doubt as to whether something needs a citation or not, always cite the source.
Items you will need
APA or MLA handbook
Photo Credits
Jupiterimages/BananaStock/Getty Images