How to Create An APA Style Reference Page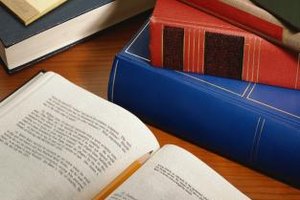 In some high school and university classes, you may be required to write your papers in American Psychological Association format. At the end of your paper, you must provide an APA-style reference page that documents the sources you've cited. As with any writing format, your APA-style reference has to follow a certain format to be deemed acceptable by your instructor.
Type and double space your essay on standard-sized paper -- 8.5-by-11-inch -- with 1-inch margins on all sides. Use Times New Roman font with a 12-point font size.
Provide a header for your APA-style reference page. The header should be the title of your paper. It should be flushed left. The page number should be flushed right, opposite the header at the top of the page.
Type "References," center it and underline it on the next line.
Input your sources that you have used in your essay. Remember that each scholarly reference has a different citation format. However, the most basic information included in an APA-style reference citation follows this order: Author(s), Date of work, Title of work, place of publication, volume, and pages. Put the date of work in parentheses and italicize the place of publication and volume number.
Maintain the double-spacing as you input your sources. If an individual source is longer than one line, indent each line after the first with a 1-inch margin.
Tip
Consult the latest edition of the APA manual if you have any questions or concerns regarding your APA-style reference page. It contains the most up-to-date information and will be of great assistance to you as you write your reference page. However, talk with your instructor about his expectations for your essay. They can provide the direction you need and will be able to assist you to ensure that you get the best grade possible.
Warning
Remember that the main purpose of an APA style reference page is to document other authors' works correctly. By doing this you allow others access to the sources you have used in your essay. This promotes ethical behavior in an academic writing community. If you do not cautiously document the sources you have used for your essay, you run the risk of plagiarism.
Photo Credits
Keith Brofsky/Photodisc/Getty Images