How to Make Unique Crochet Book Covers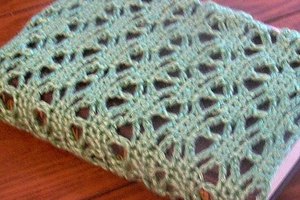 This is an extremely easy project and allows you to show off your favorite pattern or stitch. Beginners can get a lot of practice making stitches, and the more advanced can get really creative. It's a good chance to test out your filet or cross stitch pattern, or use your favorite open work or solid stitches. Then you can add embellishments; such as a sequence, buttons, beads, lace, ribbon, tassels to mark your page, a strap for holding your book closed, a shoulder strap for easy luggage of your favorite book or journal. I imagine you could even make standard book sizes and sell them. [See additional resources at bottom of page for link to instructions to crochet the pattern on book in photo.]
All you really need to do is measure your book's length from the front cover around to the back with the book closed, or from the bottom to the top, and add about a quarter of an inch for extra room to fit around the edges of the book.
Next, crochet a block of your chosen stitch or pattern to fit your initial measurement and the entire outside cover. Then you'll want to make two more smaller blocks for the insides, from one half to three quarters the width of the cover page. The bigger you can make the insides the snugger the fit; so that when you open your book to use it the outside stays flush with the cover.
Then you can sew them together with evenly spaced single crochet, slip stitch, or whip stitch... whichever you prefer. You could even try a sequence of buttons or tie's to hold it in place. If your crafty enough you could use them to make it adjustable for thiner and thicker books, that way you could use it on more than one book. Slip it on and you've got an easy, stylish, one-of-a-kind book cover.